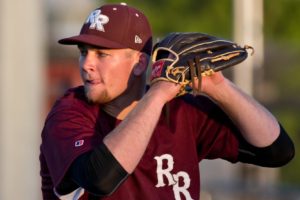 Round Rock opened the scoring in the first as Dalton Watts led off with a walk, advanced to third after Jake Miller reached on a misplayed bunt. Aiden Shepardson then walked to set up a 3-run double by Grant Miller that cleared the bases and put the Dragons up 3-0. After Tyler Pettit reached first on a HBP, Johnny Saenz reached on a bunt to load the bases. Pat DiLullo then drove in another run with the bases loaded walk. Mitch Herring finished the scoring and made the score 5-0 on a fielder's choice.
Akins got on the board in the top of the second on back-to-back extra base hits to cut the Dragon lead to 5-1. Round Rock followed up with four runs in the bottom of the second as Watts doubled to lead off and scored on a hard-hit ball by Jake Miller. Shepardson then singled, moving Miller to third where he scored on a sacrifice fly by Grant Miller to make the score 7-1 Dragons. Saenz singled Shepardson to make it 8-1, then Mitch Herring singled home courtesy runner Jared Kivett to make it 9-1.
Grant Miller earned the win for Round Rock, tossing five innings, surrendering one run, three hits, and striking out five. At the plate Miller finished 2-for-3 with four runs batted in.
The win moved the 13-6A Co-Champ Dragons to 22-6 on the season while Akins falls to 14-8-1.
The Dragons will attenpt to advance to the Are Round with a win today, audio of the game will be broadcast on K-Mac Sports starting at 3:15pm.
Photo by Huey Henry.