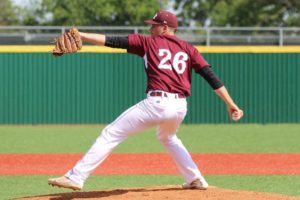 Luke Malone threw a gem in Game 2 but the Tigers scratched out a run in the bottom of the 9th to force a deciding game 3 in a Region 2 Quarterfinal Friday afternoon.
After Klein Collins took the lead in the fourth, the Dragons tied the game with a single run in the sixth.
After Jordan Williams and Dalton Watts reached on errors, Williams scored on a sacrifice fly from Aidan Shepardson as the throw to the plate bounced off Williams's helmet to knot the game at 1-1.
No one got any more offense going until the Tigers scored a run in the bottom of the ninth on a two-out walkoff hit.
Shepardson was the only Dragon to get a hit with his two singles.
Malone threw 8 1/3 innings, allowing a single run on only four hits and two walks, the longest outing of the year for a Dragon starter.