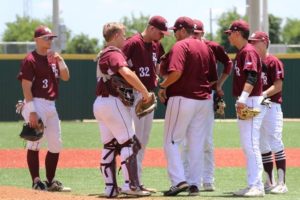 Round Rock defeated Houston Memorial 9-2 on Friday Behind Grant Miller and Zach Perry's solid pitching, plus Jake Miller's three-for-four with four runs batted in at the plate.
After the Mustangs opened the scoring in the top of the third with two runs, the Dragons came back and took the lead with three runs in the bottom of the frame. Pat DiLullo singled to start the inning and Jordan Williams walked to put runners at first and second. Dalton Watts then singled on a bunt, scoring DiLullo and advancing Willimas to third. A ground out by Kyle Hawkins scored Williams and Aidan Shepardson's single advanced Watts to third. After Grant Miller loaded the bases on a hit-by-pitch, Tyler Pettit gave the Dragons the lead for good on a sacrifice fly, scoring Watts.
Round Rock added four more runs in the fifth. Hawkins led off with a double over the center-fielder and scored on an error by the Memorial third-baseman on a hard-hit ball by Shepardson. Shepardson advanced to third as Grant Miller reached on an error by the Memorial second baseman, putting runners on the corners. Jake Miller then doubled both runners home, putting the Dragons up 6-2. DiLullo finished the scoring on the inning with an RBI single, making it 7-2.
The Dragons then added two insurance runs in the bottom of the sixth. Hawkins led off with a singled, advanced to second on a wild pitch, then stole third. After Grant Miller was HBP, pinch runner Jared Kivett stole second to put runners at second and third. Both then scored on a single by Jake Miller.
Grant Miller earned the win for Round Rock. He pitched six innings, surrendering two runs, four hits, and striking out seven. Zach Perry closed out the win, pitching a scoreless seventh while striking out two.
Round Rock collected 11 hits. Miller, Watts, DiLullo, and Hawkins each collected multiple hits for Round Rock. Round Rock was sure-handed in the field and didn't commit a single error. Pettit had the most chances in the field with 11.
"Powered by Narrative Science and GameChanger Media. Copyright 2017. All rights reserved." Any reuse or republication of this story must include the preceding attribution.