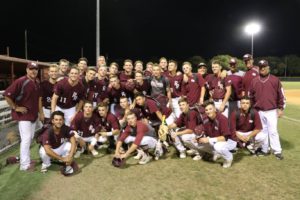 After the Dragons scored in the top of the second, Akins evened things up at one in the bottom of the second inning.
Round Rock took the lead for good with four runs in the third inning. In the third Patrick DiLullo tripled in three runs off of Rudy Reyna, driving in three runs. DiLullo then scored on a hard-hit ball by Jordan Williams to make the score 5-1.
The Dragons added three more runs in the top of the fourth on Jordan Williams's 3-run homer, scoring Aidan Shepardson & Grant Miller, making it 8-1.
Luke Malone earned the win for Round Rock. He pitched six innings, surrendering one run, four hits, striking out four, and walking one. Reyna took the loss for Akins. He threw two and a third innings, surrendering five runs, six hits, and striking out one.
Round Rock collected 12 hits. Jacob Miller, Jordan Williams, DiLullo, and Aidan Shepardson each collected multiple hits for Round Rock. DiLullo and Miller each drove in three runs to lead Round Rock.
The win improved the Dragons record to 23-6 and will next face the Houston Memorial Mustangs in the Area Round of the playoffs.
Game 1 and 2 will be Thursday and Friday at 7:00pm in Mumford. Game 3 would be Saturday at 11:00am in Mumford if necessary.
"Powered by Narrative Science and GameChanger Media. Copyright 2017. All rights reserved." Any reuse or republication of this story must include the preceding attribution.