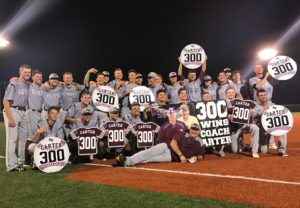 In an amazing Game 3, the Dragons scored three runs in the seventh inning and shut down a Klein Collins rally in the bottom of the inning to eliminate the Tigers. The win advanced the Dragons to the 6A Region 2 Semi-final versus the winner of Rockwall Heath and The Woodlands High School.
In 2016 the Tigers eliminated the Dragons in a very tight Area-Round matchup.
The win by the Dragons was Coach John Carter's 300th career win, all at Round Rock, his alma mater. Coach Cater was also an assistant coach for the 1997 Dragon team that won the 5A State Title.
After loading the bases without scoring a run in the first inning, the Dragons took a 2-0 lead in the second inning as Pat DiLullo walked and Jordan Williams singled to lead off the inning. Both scored on Dalton Watt's double to right field.
Klein Collins scored on an error to cut the lead to 2-1, but with the bases loaded, starting pitcher Cameron Bush induced a 4-6-3 double play to end the threat.
In the bottom of the sixth, working with a tight strike zone the Tigers put two batters on base with walks. After both Tiger baserunners advanced on stolen bases, they took the lead 3-2 on a base hit to left field.
Facing elimination in the top of the seventh, with one out Aidan Shepardson singled to center field, then Grant Miller walked to put runners at first and second.  After Tyler Pettit's single to load the bases, Jake Miller forced in Shepardson with the tying run after being hit by a pitch. Zach Perry then hit into a fielders choice but when the Tigers tried to complete the double play a wild throw to first  sailed into the dugout, allowing Grant Miller and courtesy runner Jared Kivett to score and put the Dragons up 5-3.
In the bottom of the seventh with two runners in scoring position, closer Zach Perry struck out the Tiger batter end end the threat and advance the Dragons into the fourth round of the 6A Texas UIL Playoffs, two series wins away from advancing to the UIL State Tournament at Dell Diamond.
In his first mound time in the playoffs, Cameron Bush was outstanding, going 5 1/3 innings, allowing only two earned runs, while striking out 4. Perry was also solid for the Dragons in 1 2/3 innings of relief work, allowing only one hit while striking out three.
The win moved the Dragons to 27-7, while the Tigers ended their season at 27-11.
As soon as Regional Semi-final information it will be posted here.