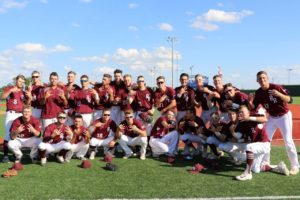 Round Rock jumped on Memorial early with five runs in the top of the first and cruised to a 11-1 win and advanced in the 6-A playoffs by winning Area.
After Dalton Watts walked, Jake Miller singled to right, advancing Watts to third. Both runners then scored on a double by Aidan Shepardson. Grant Miller then doubled home Shaepardson and later scored on an error by the Memorial shortstop to make the score 5-0 at the end of the top of the first.
After Memorial scored a single run in the bottom of the first, Round Rock added two more runs to go up 6-1 as both Jordan Williams and Shepardson singled and scored on Memorial errors.
The Dragons added two more runs in the fifth on a Grant Miller solo homer and Jared Kivett scored on a passed ball while pinch running for Tyler Pettit after his base hit.
In the sixth, Jake Miller led off with a double and scored on Aidan Shepardson's RBI single. After Tye Lindsey walked, Pat DiLullo walked to load the bases. Reed Hodges then doubled home two runs to put the Dragons up 11-1.
In the bottom of the sixth Luke Malone retired the side in order for the Dragons run-rule win. Malone earned the win for Round Rock. He threw six innings, giving up one run, two hits, striking out six, and walking none.
Round Rock had 12 hits in the game. Shepardson, Jordan Williams, Jacob Miller, and Grant Miller each collected multiple hits for Round Rock. Shepardson led Round Rock with three hits in four at bats.
The win improved the Dragons record to 25-6 and set up a rematch with Klein Collins.
"Powered by Narrative Science and GameChanger Media. Copyright 2017. All rights reserved." Any reuse or republication of this story must include the preceding attribution.