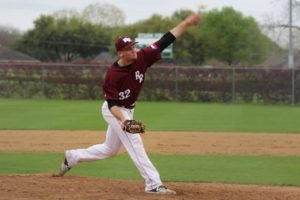 Grant Miller threw his second no-hitter of the season, giving the Dragons a 3-0 Game 1 win over #1 ranked Rockwall-Heath 3-0 on Friday. Miller induced the final out on a ground ball to second baseman Dalton Watts.
The Dragons opened the scoring in the third, with one out Mitch Herring singled for the first Dragon baserunner, then advanced to third on Jordan Williams's double to left field. Herring then scored on Dalton Watts's single to second base. Williams then scored on a Hawks error to make the score 2-0.
The Dragons added an insurance run in the bottom of the fifth as Herring reached on a dropped third strike, then scored on a double by Dalton Watts.
Miller earned the win for Round Rock, tossing seven hitless innings, surrendering zero runs, striking out 12, and walking one.
Dalton Watts went 2-for-3 at the plate as he led the team with two runs batted in. Round Rock was solid defensively and didn't commit a single error.
The win pushed the Dragons record to 28-7 on the season.