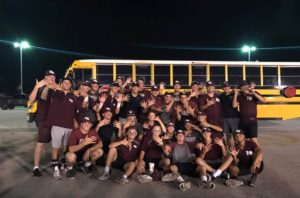 Round Rock jumped on #1 ranked Rockwall-Heath with six runs in the first inning and cruised to a 7-0 win. The shutout was the second of the night thanks to five innings from Luke Malone and two from Grant Hurn. Hurn induced a popup to second baseman Dalton Watss to end the game and advance to the fourth regional final in Round Rock Dragon history, and their first since 2003.
With one out in the first, Jake Miller reach on a Hawks error, then advanced to second on a single by Aidan Shepardson. Grant Miller then loaded the bases on a single to center field. Tyler Pettit then opened the scoring with a single to short to put the Dragons up 1-0. Zach Perry then made it 3-0 on a single to left, scoring two runs. After Pat DiLullo's bunt single to re-load the bases, Perry and DiLullon both scored on a passed ball to make it 5-0. Jordan Williams ended the scoring in the first with an RBI single, making the score 6-0.
The Dragons added an insurance run in the fifth as Jake Miller singled, then scored on an attempted pickoff at second base.
Luke Malone earned the win for Round Rock. He pitched five innings, surrendering zero runs, three hits, and striking out four. Grant Hurn recorded the last six outs to earn the save for Round Rock.
Round Rock had ten hits in the game. Jacob Miller, Aidan Shepardson, and Perry each collected multiple hits for Round Rock. Grant Miller, Pettit, DiLullo, and Williams had a hit each. Round Rock was solid defensively again, not making a single error.
The sweep pushed the Dragons record to 29-7 and sets up a Regional Final with their District 13-6A rival, the Hendrickson Hawks.